UD runner and biomedical engineering major ready to compete
The second day of the school year in the fall of 2018 was a great one for Carly Pettipaw, a senior on the University of Delaware's women's track and field team. Not only was she assigned the senior design project that she wanted with Terumo Medical Corporation, she was also offered a full-time job with Siemens Healthineers.
A biomedical engineering student in the College of Engineering, Pettipaw was attracted to Siemens, a multinational conglomerate, at job fairs. While the company wasn't interested in younger students during her first year and sophomore years, as a junior she hit it off with the representatives. After an interview, she secured a summer internship with Siemens Healthineers at their location just south of Delaware's campus.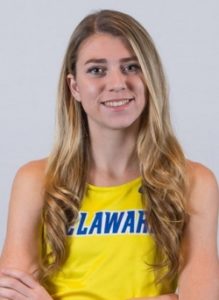 Pettipaw was one of six interns hired for Siemens' Operations Leadership Development Program (OLDP), and one of the three interns that were offered a full-time job with OLDP, which means a a 24-month rotation between sites in Newark, Boston and New Jersey.
"The whole point is that you can get a better idea for the company as a whole if you have three different roles at three different locations," Pettipaw said. "It also increases your networking abilities. I'm going to have three different experiences in two years which is really unique. That's part of the reason why I accepted the job offer."
Healthineers is the healthcare sector for Siemens, where Pettipaw worked within the laboratory diagnostics sector. Her projects focused on a production line that filled containers with fluids that will be used on a system that runs blood tests. While the experience was focused on a narrow part of the operation, it was crucial to the operation.
"If something goes wrong, everything stops for the day," Pettipaw said. "If you want to keep producing batches and keep running things you need to make sure you're running efficiently. It taught me how to think on my feet."
While the internship was in the healthcare sector, the experience expanded into mechanical and manufacturing engineering.
"It's more of a mechanical engineering skill set that's used there," Pettipaw said. "Delaware biomed engineering was born out of the medical engineering department. We're not super cell-based, our projects are more mechanically focused. That's why in the manufacturing it was more applicable and I could relate what we had learned in the classroom to what I was seeing in the workplace."
On the track, Pettipaw specializes in middle-distance events, including the 800-meter run. Too short to be a long-distance jog, and too long to be an all-out sprint, the 800 can often be a grueling and mentally challenging race. That pressure-packed environment is where Pettipaw is at her best.
"Stress gives you an adrenaline rush," Pettipaw said. "It's stressful before races and it's stressful in school and balancing it all. I sometimes thrive under stressful situations. When I'm studying for exams, if I'm not stressed, I'm not studying most effectively. The same with track, too. If I don't have that nervous energy before the race I'm not going to run well."
Competing in athletics and studying engineering at Delaware gave the Mount Laurel, New Jersey native the leadership and team-oriented mindset necessary to be successful in the industry.
"The collaboration, I find that really prevalent in my classes here. Engineering is highly group-oriented," Pettipaw said. "All the soft skills I had picked up from being on a team, and especially being an upperclassman having more of a voice on the team, being a leader to the underclassmen. In the classroom setting I feel myself leading my group sometimes and helping to get everyone on the same page."
Pettipaw will rotate through Siemens' three East Coast sites for the next two years, after which she could have several possibilities: a permanent position with Siemens or going back to school for a graduate degree. Whatever path she chooses, her experience at Delaware has laid the foundation for her to succeed.