Unidel Foundation grants up to $15 million, but hopes to inspire others
The University of Delaware just got one step closer in its pioneering research to help prevent and treat some of the most prevalent and debilitating diseases that affect human health — including Alzheimer's, Parkinson's, diabetes and cancer.
Unidel Foundation, Inc. has granted $3 million, and will grant up to $12 million additional, in support of the Ammon Pinizzotto Biopharmaceutical Innovation Center, which is under construction at the Science, Technology and Advanced Research (STAR) Campus. To help motivate others to support the project, the University will use this gift to establish a challenge to other prospective donors.
The funds from the Unidel Foundation will provide donors who gift or pledge a minimum of $50,000 with a dollar-for-dollar matching gift, as long as funds remain, for naming opportunities in the building. For example, a donor who makes a commitment of $50,000 during the challenge period will receive a naming opportunity valued at $100,000.
"We are grateful to the Unidel Foundation for supporting our vision to build the future of biopharmaceutical manufacturing innovation on UD's STAR Campus," UD President Dennis Assanis said. "This investment will help fuel the growth of this groundbreaking center, advancing the research of our faculty and students and cultivating collaboration with innovators and entrepreneurs at a national scale. Through synergy, we will invent the next generation of medicines and patient therapies."
As the home for biopharmaceutical innovation, life sciences research and numerous education programs at UD, the 228,000-square-foot Ammon Pinizzotto Biopharmaceutical Innovation Center will provide necessary space for biopharmaceutical research and related classes on UD's STAR Campus. The center will also encourage industry partnership and will serve as the hub for the National Institute for Innovation in Manufacturing Biopharmaceuticals (NIIMBL) as well as the Department of Biomedical Engineering and the Delaware Biotechnology Institute.
A generous $25 million cornerstone gift from Board of Trustees member Carol A. Ammon, '11H and President's Leadership Council member Marie E. Pinizzotto, M.D., '80M, led the way on the project as part of the launch of Delaware First: The Campaign for the University of Delaware.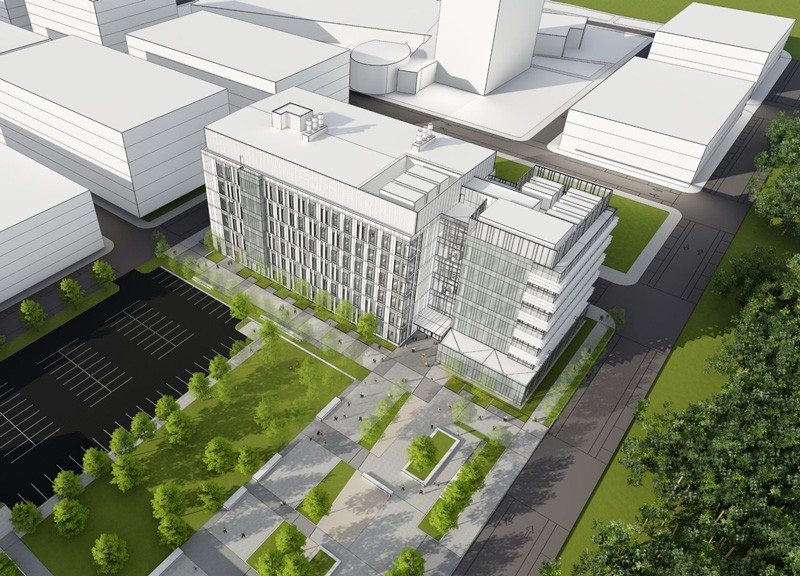 Mobilizing a unique partnership between the University, other higher education institutions, industry, start-ups and federal and state agencies, the building will create new jobs and provide opportunities for spin-off companies and manufacturing facilities.
"Marie and I have spent our entire careers in the healthcare field and understand the critical nature of research and innovative manufacturing solutions to be able to help people everywhere," Ammon said. "We feel this project will change not only patient care, but it will really change how medicine is delivered."
Pinizzotto added, "We are thrilled to support what is such a promising and noble moment in the history of the University of Delaware — actually a game-changer for Delaware and beyond."
The continued development of STAR Campus will establish a hub where people can come to work, learn, create and build in a vibrant and connected community. Building and research infrastructure, plus construction of the Newark Regional Transportation Center to ensure easy access by Northeast industry partners, will help further unite University, government, corporate and community on STAR Campus.
"By working together to build and create specialized resources, we can help UD continue to lead the way in biopharmaceutical research and even change the future of medicine," said Kelvin Lee, director of NIIMBL and Gore Professor of Chemical and Biomolecular Engineering at UD. "Biopharmaceuticals are becoming increasingly important. They save lives, they sustain lives, they improve lives. We at UD can place an emphasis on biopharmaceutical development in a way that other organizations can't, and philanthropic support is crucial for these efforts."
For more information about supporting the Ammon Pinizzotto Biopharmaceutical Innovation Center, contact Dana Raftas at 302-831-7435 or draftas@udel.edu.
About the Unidel Foundation
The Unidel Foundation was founded in 1939 by Amy Elizabeth du Pont in memory of her father, Eugene du Pont, former head of the DuPont Company. Amy Elizabeth du Pont had served on the Board of Trustees' advisory committee of the Women's College, which with Delaware College, became the University of Delaware in 1921.
The Unidel Foundation has continued to support the University in areas such as scholarships, fellowships and professorships; has contributed to the renovation of Memorial Hall and the construction of the Amy E. du Pont Music Building and Patrick T. Harker Interdisciplinary Science and Engineering Laboratory; helped to create the nationally recognized University Honors Program; and has made possible countless other critical projects and initiatives.
About the campaign
Delaware First: The Campaign for the University of Delaware was publicly launched on Nov. 10, 2017. The comprehensive engagement and fundraising campaign unites Blue Hens across the nation to accelerate UD's mission of cultivating tomorrow's leaders, creating solutions to grand challenges, inspiring innovations and transforming lives. The united effort will help create an extraordinary student experience at UD and extend its impact on the region and the world.
For more information about the Campaign, call 302-831-2104 or email campaign-info@udel.edu.